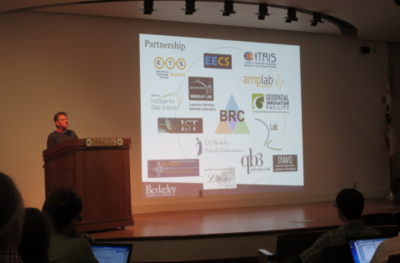 Two new services -- in cloud computing and research data management, each offering free consulting help for campus researchers -- were spotlighted in a Town Hall on September 24, 2015, hosted by Research IT. Presentations at the Town Hall also previewed expansion of the campus's Savio computing cluster, and provided an update on the Berkeley Research Computing (BRC) program's Faculty Computing Allowance. Slides and videos from the event are now available (see below).
Highlights of the Town Hall include presentations on:
Presentation videos (posted to YouTube) and slide decks (in PDF format) from the Town Hall are available for review:
We encourage and welcome Berkeley faculty, post-docs, grad students, and research staff with questions or interest in taking advantage of any of these services to contact Research IT at research-it@berkeley.edu.
Links and contact information referenced in presentations