This year's University of California Computing Services Conference (UCCSC) included a new track -- Research IT -- and was hosted at the beautiful UC San Diego (UCSD) campus August 7–9, 2017. The annual conference gathered together over 500 people from all 10 UC campuses, 3 Medical Center campuses, and the Office of the President. A dinner the night before at the 
Birch Aquarium
 kicked-off the two-day event that included 
a program
 of keynotes, presentations, tour of 
Fallen Star
 (a sculpture installation commissioned by UCSD's 
Stuart Collection
), workshops, and panels across 7 different tracks, including Architecture, Culture, Engineering, Leadership, Vendors, Health IT, and Research IT.
There were 22 staff from Berkeley who attended the conference, including 5 staff who submitted proposals for sessions that were accepted:
Michelle Bautista - Trust Bank Presentation & Game: How to Build an Organization Focused on Trust
Antonio Cricelli - Using Open Source and Ebay to Deploy Useful Compute Clusters
Lucy Greco - Tools and Training For Developing More Accessible Products and Services
Jeremy Rosenberg - Who Are We, Really? The Future of Identity and Access Management Across the UC System
Israel Vela - kraken: Berkeley Law Lecture Capture System
The follow-up survey to attendees collected by this year's UCCSC Berkeley ambassador, Shelly Kleinschrodt, leaves no doubt, as one one respondent says, that "UCCSC is worth IT!" Others echoed that sentiment in more detail saying:
"With so many sessions, there was something for everyone and all agreed there were many opportunities for learning and sharing."
"From strategy to new technologies to women in IT to identity management to governance to service models to virtual reality to data centers - Berkeley attendees found UCCSC to be a place to engage, learn, share and collaborate."
To help support the new Research IT track focus area, the conference leadership awarded 59 Community Awards that provided free conference registration and free housing. This award helped to bring together members of the community who support research at their campuses, an area previously under-represented in past UCCSC conferences. One of the award recipients writes:
"I would like to thank the UCCSC organizers for the community awards; without the Research IT scholarship, I would not have been able to attend this conference. The entire event has been a really great experience for me."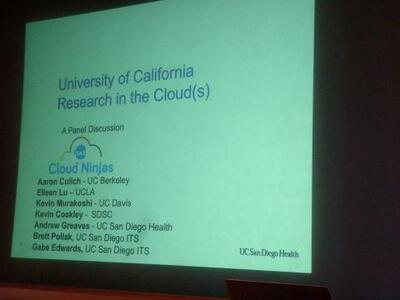 Three staff from Research IT at Berkeley received the generous award to attend:
Kelly Rowland, Domain Consultant with Berkeley Research Computing (BRC) and PhD candidate in the field of Nuclear Engineering.
Maurice Manning, CyberInfrastructure (CI) Engineer
Aaron Culich, Research Computing Architect and a lead for BRC's Cloud Computing Support, Working Groups, and Research Community Engagement
There were two sessions at which Culich represented the Berkeley Research IT group and co-hosted included:
UC Research In The Cloud(s) panel that included Aaron Culich (UC Berkeley), Eileen Lu (UCLA), Kevin Murakoshi (UC Davis), Kevin Coakley (UCSD), Andrew Greaves (UCSD), Brett Pollak (UCSD), and Gabe Edwards (UCSD). Panel members from each campus discussed how each campus is handling research computing in the cloud. (see slides)
UC-wide AWS User Group meetup (Track 3 Cloud Working Group) had ~40 participants from across every UC campus, along with AWS (Amazon Web Services) representatives, to introduce everyone to each other and describe one or two important cloud-related projects on their campus (see agenda).
In all, the UCCSC conference was a huge success with many take aways and lessons learned that will help us all learn and collaborate together in a way that embodies this year's UCCSC theme: Working for the Greater Good.