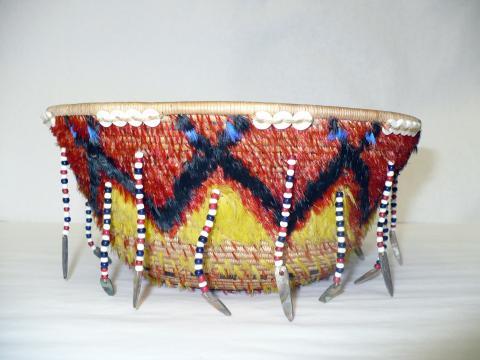 Michael Black, Head of Research and Information in the Phoebe A. Hearst Museum of Anthropology, is on a mission. As a Ph.D. Anthropologist, he knows the value and importance of good data. So when the Hearst Museum faced a major physical move of their collections, he recognized both the need to record accurate information about the move and an opportunity to improve data about their collection in a fundamental way. Michael also knew how enormous this task would be. After all, the Hearst Museum houses the largest collection of anthropological materials in the western United States, with over 3 million objects from around the world documenting over a million years of human history and prehistory. Fortunately, museum leadership had decided to adopt CollectionSpace as their collection management system, and had worked with Research IT to migrate museum data and collections management operations into CollectionSpace beginning in 2011. This established a modern and efficient platform for maintaining accurate information about the items in their collection, and provided a framework for meeting the new demands being placed on the collections and on the professional museum staff responsible for their stewardship. With the power of CollectionSpace and the dedicated work of the joint team from Research IT and the Hearst Museum, Michael knew that great things could be accomplished.
At first, the size and scope of this effort was daunting. The Hearst Museum's collection is both vast and diverse. While museum staff have cited the Hearst Museum's collection size at 3.8 million objects for the last several decades, no systematic inventory and count of the collections had ever been undertaken, a problem that Michael and the museum team set out to address. Because the move would require touching every object in the collection, there was an opportunity to record more accurate data than had been entered previously. In order to facilitate this data work, John Lowe, engineer at Research IT, developed several web applications based on the CollectionSpace API that allowed museum staff to modify data for groups of objects quickly. These applications enabled museum staff to update multiple fields of information for hundreds of thousands of objects in the collection, including their location and basic metadata about their material and cultural affiliation. Another set of applications were developed that allowed Hearst Museum staff to move groups of objects quickly, into temporary storage locations, onto moving trucks, and into their final locations in new storage facilities, with each movement step recorded in detail.
Hearst Museum's collections are extremely diverse, ranging  from ancient stone tools, to Egyptian mummy masks, Greco-roman coins, Hopi ceramics, and audio recordings of endangered Native California languages. Using the new web applications, Hearst Museum staff can update a handful of text-based attributes describing each artifact, but to convey more information about each object, the decision was made to photograph each object prior to its being moved. Another web application leveraging the CollectionSpace API was developed to help Hearst Museum staff upload photographs in the most efficient way possible. Museum staff quickly recognized the potential of this system and decided to allocate more time to this effort. As a result, they have uploaded hundreds of thousands of images that are associated with the cataloging records in CollectionSpace.
The Hearst Museum's move is now complete, the result of an incredible effort by museum staff over a four-year period. With the Museum's gallery set to reopen in spring 2017, another application built on top of CollectionSpace allows students, researchers, and the public in general to search through and browse the collections online. The Hearst Museum's new Collections Portal, written by Research IT developer John Lowe with help from Amy Wieliczka, is now online with information for every object in the collection and includes over 323,000 photos plus another 400,000 scanned documents such as catalog cards. In addition to the public Collections Portal, a version for internal use contains additional information and is used by museum staff with login credentials. The new public portal replaces Delphi, the museum's previous collections browser.
These portals are an example of how CollectionSpace is allowing the Hearst Museum now to realize its most strategic objectives. In addition to improving the quality of their collections data and making that information available online, Michael Black is now working with a group of students to enrich the database with better information about the geographic locations where objects in the Museum were collected, no small task given the number of objects and the diversity of research projects represented in the Hearst Museum collections. Michael further envisions enhancements to the way that time is represented in the system, noting that archaeological time periods are notoriously difficult to compare from region to region. For example, the Bronze Age in China and the Bronze Age in Europe do not overlap chronologically. However, there are emerging approaches that will allow researchers to search through the collections in time as well as space. Importantly, Hearst Museum staff and the CollectionSpace team in Research IT will continue to collaborate closely on these emerging directions.
Though the importance of this work to the Hearst Museum alone can not be overstated, Michael Black and the CollectionSpace team in Research IT knew that there were opportunities for these same applications to help other museums. The Berkeley Art Museum and Pacific Film Archive (BAMPFA) was beginning their own major move into a new building closer to downtown Berkeley and needed the same capability to track the movement of their collections. They also were eager to accelerate their photography and imaging workflows, and the demand for a public-facing collections portal was also very high. More information about how CollectionSpace and the web applications helped BAMPFA can be found in the news article, "BAMPFA launches search portal – and moves", and their Art Collections Portal is now available. Similarly, museum staff in the UC Botanical Garden and the University and Jepson Herbaria faced similar needs for web portals and digitization projects. The collections portals for the Botanical Garden (see "UC Botanical Garden launches search portal on updated website") and the UC/JEPS Herbaria were built fairly quickly based on the earlier work for the Hearst Museum.
Because these museums all use CollectionSpace, the CollectionSpace team in Research IT was able to adapt the Hearst Museum applications for these other collections with modest effort. In this way, the joint investment by the Office of the CIO, the Office of the Vice Chancellor for Research, and the Hearst Museum itself has paid dividends for multiple campus museums. The model of generalizing one museum's particular needs into scalable workflows that can benefit other museums that share the underlying CollectionSpace platform is highly effective, and continues to inform Research IT's approach to extending CollectionSpace to help researchers reach their strategic goals and meet new demands.