BAMPFA launches search portal – and moves
On January 31, 2016, the transformation of the "Deco Moderne" former UC Berkeley printing plant into the new home of the Berkeley Art Museum and Pacific Film Archive ("BAMPFA") will be complete, and visitors will be able to enter the gallery and view the first exhibit in the new space, Architecture of Life, an "international selection of over 250 works of art, architectural drawings and models, and scientific illustrations made over the past 2,000 years."
However, you don't have to wait until then to see what's in BAMPFA's art collection! In collaboration with Research IT, BAMPFA has just launched its public search portal, which allows the public to access images and metadata on its 22,000 objects.  More than 5,400 of these objects are associated with one or more photographs.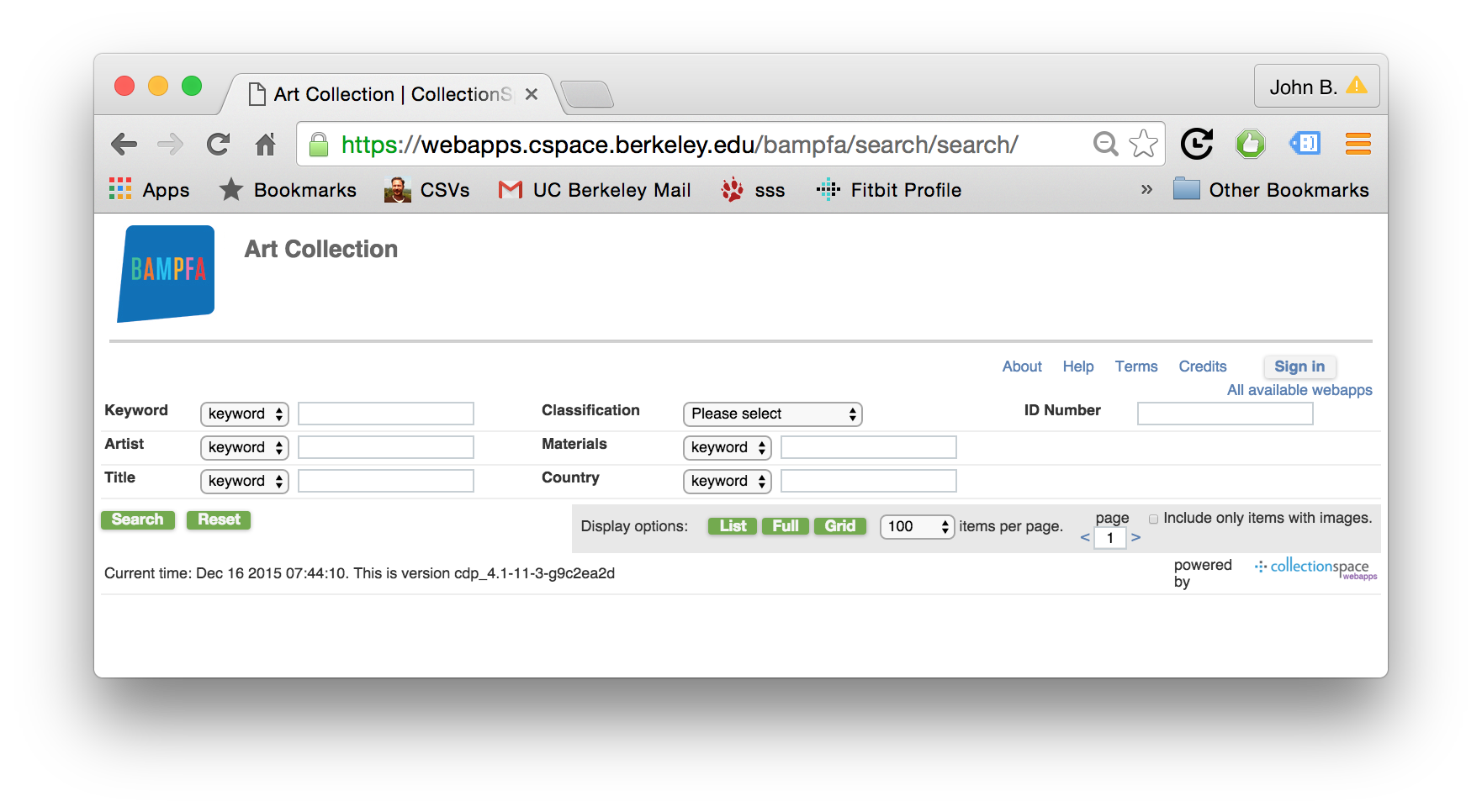 (Click for a higher resolution image of the screenshot, above.)
The Public Portal is the result of several months of collaboration between BAMPFA and Research IT: BAMPFA's collection is now managed in CollectionSpace, an open source museum collection management system, which now has a module to provide public access to part of the collection.  (There are in fact two portals for the BAMPFA data: there is also an Internal Portal, only available to museum staff and other authorized users, which provides access to access to data elements that are not suitable for public viewing for security and other reasons. Data like the current location of the work and the identity of donors are restricted.)
Try a few searches!  Here are a few that show the range of works in BAMPFA's art collection:

Ecstasy. 1947. Oil on canvas. 68 x 60 in. 1963.2
Figure of Sarvabuddhadakini. Unknown artist. Tibet. 19th century. 8 5/8 in. Gilt bronze. EL.1.07.29
Sherrif's [sic] Office, Orange County, Case No. 354-924 (The San Francisco Performance), object 1995.46.439.45.a-m, consisting of some thirteen pages, mostly police reports, describing the 1972 interaction of two individuals with the Orange County Sheriff's Office regarding the use of "Christmas tree type lights [...] laid out in a pattern in so as to spell out the word attica in large block capital".
Don't miss BAMPFA's Community Day Opening on January 31, and enjoy online access to BAMPFA's world-class exhibition via the new Portal anytime.