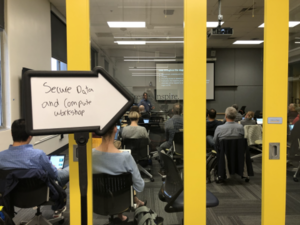 The "Working with sensitive and Protected Data Workshop" hosted by Research IT took place on December 5, 2019, at the Academic Innovation Studio. With speakers and researchers from Research Data Management, Berkeley Research Computing, Information Security Office, Lawrence Berkeley National Lab, and various academic fields, new information about data classification and security plans was introduced to attendees. Researchers working with sensitive data can now have an overall clarification on how to protect their data. The workshop addressed convenient ways to work with data on the high performance computing clusterSavio and theAnalytics Environments on Demand (AEoD) virtual machine service and introduced a new platform that Research IT is developing for highly sensitive data.
Updated Data Classification Standard, how does it work?
The new versions of theData Classification Standard and Data Classification Guidelines have been released by the Berkeley Information Security Office. This new standard aims to build an on-campus framework for assessing data with confidentiality and limited availability for institutional or research purposes. Each protected dataset has its own updated data classification level (P1, P2, etc.) which is consistent across all the UC campuses. It was formerly the UCB protection standards (PL2, PL3, etc.)
Working with sensitive data onSavio andAEoD:
Research IT has improved its services for sensitive data classified at the P2 Low and P3 Moderate levels. Savio, Research IT's HPC cluster, is suitable for a wide diversity of research applications, including tightly coupled applications that require a low latency, high bandwidth interconnect, or very fast I/O. AEoD is a virtual machine service that is suitable for people needing highly interactive computing, especially those working with commercial data analytics software (Stata, SPSS), as well as with RStudio and python. AEoD virtual machines are available on Linux and Windows OS. Contact Research IT for a consultation about your sensitive data and we can help match you to a resource and get access to it. 
 
Announcing the new Secure Research Data and Compute (SRDC) Platform
Research IT is also pleased to announce that the campus has approved funding for the development of a new research computing platform built for researchers working with highly sensitive data (classified at the P4 High level). The SRDC Platform will bring together High-Performance Computing, virtual machines, and data storage in support of a wide range of research, disciplines, and workflows. Whether you are a biologist or computer scientist working with big data or a social scientist working with smaller data sets, the SRDC Platform is being designed for you. Importantly, the SRDC Platform will be professionally supported by systems engineers, research facilitators and cybersecurity experts who will partner with research computing staff and students across disciplines. The SRDC Platform will feature a Faculty Computer Allowance that leverages an initial campus investment, and researchers can use grant funds (exempt from overhead costs) and startup funds to add compute and storage capacity to the platform. 
Where to get help with your research? Find Research IT!
Do you need help with data classification methods, data sources, project setups on Savio and AEoD, or any other questions on your research projects? Research IT provides consulting services that can help with all sorts of researcher needs, workshops, training, and events.Let us know!
View the full recording of the workshop onResearch IT's Youtube page