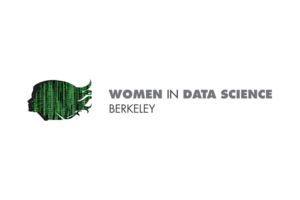 Sunday, March 7, 2021 - 4:00pm to Thursday, March 11, 2021 - 4:00pm
Online
Women in Data Science (WiDS) at UC Berkeley
Date: March 8 - 12, 2021
Registration and schedule: WiDS Berkeley: Women in Data Science at UC Berkeley
Location: Zoom meeting
Estimated read time: 5 minutes
This year, when faced with the challenge of social distancing, Women in Data Science (WiDS) has built upon their traditional conference and announced an inaugural 24-hour global event on March 8th, International Women's Day. WiDS, "aims to inspire and educate data scientists worldwide, regardless of gender, and to support women in the field." This worldwide event features women researchers from around the world who will present their work, share the latest data science skills, and discuss their journeys towards becoming the scholars they are today.
At a locaMatrix silhouette of a woman's face placed on the left of the text, "Women in Data Science Berkeley." l level, a diverse and dynamic UC Berkeley planning committee has found ways to use technology to their advantage to create a free, virtual, Berkeley-focused WiDS event. Whether you're a seasoned professional in this field or a curious undergraduate who wants to see what data science at Berkeley is about, we encourage everyone to attend! The WiDS Berkeley conference is open to all genders and gender expressions.
WiDS Berkeley Conference
Each WiDS Berkeley event day will be held for two hours between 10am and 12pm and will take place through Zoom's meeting feature for a more intimate and interpersonal conference experience. Each day there will be different keynote speakers and activities that are structured around a central theme so that you know exactly what to expect from the two hour event you are attending.
Tuesday, 3/9: research-focused programming featuring Tech Talks from four incredible women across different disciplines and careers who will each share a short glimpse into their work.
Wednesday, 3/10: Berkeley WiDS will debut a new student-themed event that aims to highlight student experiences in data science through short talks from graduate and undergraduate students.
Thursday, 3/11: new, inspiration-focused networking event where attendees will have the opportunity to engage with one another to share what drives and inspires their work while forging valuable new connections with one another.