Date: March 8 - 12, 2021
Registration and schedule: WiDS Berkeley: Women in Data Science at UC Berkeley
Location: Zoom meeting
Estimated read time: 5 minutes
This year, when faced with the challenge of social distancing, Women in Data Science (WiDS) has built upon their traditional conference and announced an inaugural 24-hour global event on March 8th, International Women's Day. WiDS, "aims to inspire and educate data scientists worldwide, regardless of gender, and to support women in the field." This worldwide event features women researchers from around the world who will present their work, share the latest data science skills, and discuss their journeys towards becoming the scholars they are today.

At a local level, a diverse and dynamic UC Berkeley planning committee has found ways to use technology to their advantage to create a free, virtual, Berkeley-focused WiDS event. Whether you're a seasoned professional in this field or a curious undergraduate who wants to see what data science at Berkeley is about, we encourage everyone to attend! The WiDS Berkeley conference is open to all genders and gender expressions.
WiDS Berkeley Conference
Each WiDS Berkeley event day will be held for two hours between 10am and 12pm and will take place through Zoom's meeting feature for a more intimate and interpersonal conference experience. Each day there will be different keynote speakers and activities that are structured around a central theme so that you know exactly what to expect from the two hour event you are attending.
Tuesday, 3/9: research-focused programming featuring Tech Talks from four incredible women across different disciplines and careers who will each share a short glimpse into their work.
Wednesday, 3/10: Berkeley WiDS will debut a new student-themed event that aims to highlight student experiences in data science through short talks from graduate and undergraduate students.
Thursday, 3/11: new, inspiration-focused networking event where attendees will have the opportunity to engage with one another to share what drives and inspires their work while forging valuable new connections with one another.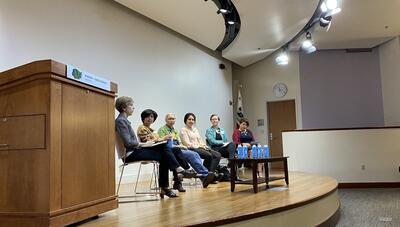 With members from various departments and positions across campus, the planning committee aims to elevate the voices of underrepresented backgrounds in the field while also accounting for the wide range of data science disciplines. Amy Neeser, Research IT's Consulting and Outreach Lead and one of the WiDS Berkeley planners, emphasises how data science cuts across all disciplines and is like a uniting force. When asked about what she's looking forward to at this year's conference, Amy shared that she is really excited about Vivienne Ming's talk since it's a great opportunity to highlight LGBTQ+ voices in data science. Alicia Tsai, an Electrical Engineering and Computer Science PhD student at Berkeley and another WiDS planning member, also shares how she is particularly looking forward to the talk by her fellow student Tiffany Tang, a PhD candidate in Statistics at Berkeley, since it will be the first time PhD students present at a WiDS Berkeley conference.
Building Inclusive Data Communities Panel, 
WiDS Berkeley Conference 2020; pictured from left to right: 
Dr. Camille Crittenden (Moderator), Ling Cheng, Annette M. Grenier, 
Prof. Niloufar Salehi, Prof. Cathryn Carson, Dr. Claudia von Vacano
For more details on the conference structure and events, please refer to the 
conference schedule
What you can take away from attending the conference
For Amy, one benefit is that it's a chance for people to meet each other and to get inspired for their own careers. As a WiDS Berkeley conference planner for two years and an attendee for three, Amy mentioned that she sees the conference growing and more people from different backgrounds and life experiences. This has helped her understand that all her work in Research IT must be done through the lens of diversity, equity, and inclusion. Alicia also emphasized that this conference is a good opportunity for people who are already in data science to find exposure to different perspectives on how others use data in their work; this may help individuals approach their own work from a different angle through data.
For those who are looking for some guidance or would like to share your wisdom and experience, you could look for potential mentors or mentees or forge relationships that may outlast the conference and lead to potential collaborations, career opportunities, and internships. Above all, this conference builds a sense of community amongst women in data science. Alicia suggests that WiDS Berkeley can be inspiring and encouraging for people who are not sure about what to do, what next step to take, or for people who want to go into data science but remain hesitant. "It's very valuable that there's a sense of community," Alicia shares, "it helps retention of women in this field...helps them feel like they're not alone and know that there are people they can go to." This conference is a great stepping stone for what we can hope to see in the future: an institutionalized, welcoming community for everyone in data science
Student volunteers and attendees at WiDS Berkeley
Special Thanks
We'd like to give special thanks to the planners behind this year's WiDS Berkeley Conference. This team brought new ideas and considerable effort to create a unique and inclusive experience for conference participants and attendees that we hope outlive this week and inspire future data scientists. Thank you to: Alicia Tsai (graduate student), Amy Neeser (Research IT), Claudia Natalia von Vacano PhD (D-Lab), Doris Schioberg (iSchool), Erin Foster (Library, Research IT), Iberia Zafira (University Development and Alumni Relations), Kelly Rowland (Lawrence Berkeley National Lab), Liliana Cardile (Division of Computing, Data Science, and Society), Liza Schlosser-Olroyd (Academic Innovation Studio), Muskaan Goyal (undergraduate student), Reza Fazelre (MathWorks)
We'd also like to thank our sponsors who made this year's WiDS Berkeley Conference possible: D-Lab; Division of Computing, Data Science and Society; OneIT; Research IT; Research, Teaching, and Learning; School of Information; UC Berkeley Library