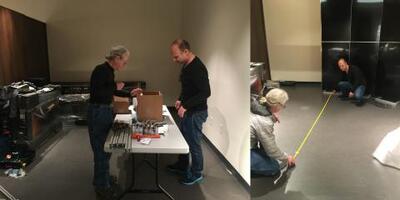 Construction has begun on a visualization wall at the Phoebe A. Hearst Museum of Anthropology in Kroeber Hall that will immerse viewers in guided tours of archeology sites and other displays in 3D.
UC Berkeley's Research IT has been working with Hearst Museum Director Ben Porter and the Head of Research & Information Systems Michael Black to define the technologies required to build the display, which will be available to the public when the Hearst Museum gallery reopens to the public on April 3 of this year. Senior Research Scientist Tom DeFanti from UC San Diego (UCSD), Director Of CyberInfrastructure & Research Computing Jeffrey Weekly from UC Merced, and members of their teams, have provided guidance on system design based on experience creating visualization systems at their respective institutions.
Senior Design Engineer Gregory Dawe and Dr. George Pavlides arrived at the Hearst on February 27th to assemble the wall. Six 55" LG 4K 3D screens will be connected, and the visualization across the screens will be orchestrated by a virtual reality framework which was developed in the Immersive Visualization Laboratory at Calit2 at UCSD. Tom DeFanti's team will assist with configuration of the server and installation of the CalVR software, as well as training Hearst Museum staff in the management of the visualizations.

UCSD and UC Merced both host larger implementations of this type of visualization wall, called a WAVE (Wide-Angle Virtual Environment). These installations, along with the new wall at the Hearst Museum, will leverage the Pacific Research Platform, a high-speed network for collaborative science and scholarly research, to exchange content and collaborate.
Members of Research IT visited UC Merced in September of last year to see a demonstration on the larger WAVE system at UC Merced, and discuss the details of the Hearst Museum system design with Jeffrey Weekly. The demo included stunning interactive visualizations of archeology sites in Syria and Mexico, guided by UCSD Anthropology Professor Tom Levy. Similar content will be presented in the renovated Hearst Museum public gallery. For more details on the renovations please see this announcement on the Heart Museum website.