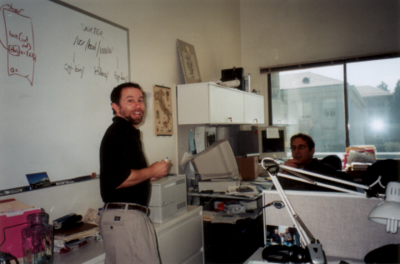 With a mix of sadness and cheer, we bid Aron Roberts a fond farewell from UC Berkeley, as he retires from the university and pursues other endeavors in the private sector. For the last eight years, Aron has worked with Research IT, and its predecessor, Data Services, as an Application Programmer. Between 2013 and 2014, he served on the team that helped to establish the current identity and direction of Research IT, and provided in-depth consulting to researchers to support their research computing needs.
Providing direct support to users has been a common thread throughout Aron's 33 years of service to the University of California, starting at UC Santa Cruz. Aron joined the UC Berkeley staff in August 1985 at the Tolman Microcomputer Facility (TMF)the flagship PC/Mac lab on campus at the time. The TMF provided an instructional environment where all students, especially those not majoring in Computer Science, could learn software tools and programming skills. Aron was a key figure in its ongoing success, and was a key figure in every other group he subsequently worked with in Information Services and Technology (IST) and the Office of the CIO:the Workstation Software Support Group (WSSG) (1989-2006); Data Services (2006-14), and Research IT (2014-17).
While in WSSG, Aron consulted widely with microcomputer and workstation users. He also helped build and improve the campus-scale services they used, including shared calendaring, email, and access to Internet connectivity. He was a long-time member of the team that provided Connecting at Berkeley, an invaluable connectivity wizard and software toolkit for system administrators across campus and computer users working from home. This toolkit standardized selection of tools and software and automated install tasks, saving countless hours. During that era, system administrators eagerly expressed their delight at each new annual release of the Connecting at Berkeley CD.
Aron was also one of the co-founders of Micronet, the large and well-regarded campus user group that supports IT staff. The first Micronet meeting was held on Halloween, 1989; many of the attendees, says Aron, arrived in costume.
Aron recalls many fond memories of working at Berkeley, such as when he and his team marked the 50th birthday of their beloved manager with the creation of a video comprised of skits that he and his co-workers filmed off-hours, on and around campus, that made light of their work experiences. Aron recalled that "in one skit, we dressed in surgical gowns with shower caps on our heads, standing around an 'ill' PC. Then, one of the surgeons pulled a carpenter's iron file out of the PC and announced triumphantly toward the camera that the problem with the patient had been found -- a bad file." Another skit, filmed in the UC Botanical Garden, was a parody of the Survivor reality TV show, offering some soft-satire of the team-building exercises du jour.
Aron has been a terrific colleague to many at the university, including the staff in Research IT. We are grateful for the opportunity to witness firsthand Aron's exceptional ability to combine technical expertise with a tremendous sensitivity to the needs of both his IT colleagues and the research community we serve.
Research IT is especially grateful for the work Aron has done over the last two years with our partners at Lawrence Berkeley Lab to support Savio, our High Performance Computing cluster. His exemplary service in all professional dimensions will serve as a guide to IT professionals at UC for many years to come. Bon voyage, Aron, on your next endeavors!
Image: Aron Roberts and Steve Masover during Aron's time at WSSG, in 297 Evans, around 2001.