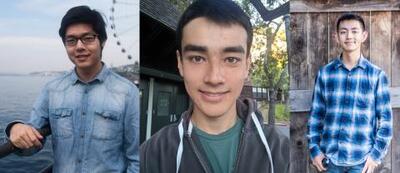 A new team of undergraduate interns joined the Berkeley Research Computing (BRC) team this fall, and quickly became an indispensable part of Savio cluster operations. The BRC Ops Intern Program was conceived as a pilot for a BRC undergraduate fellowship program, currently in development, that will provide UC Berkeley students with hands-on experience in HPC system operations, user support, and software engineering.
Over the course of the Fall semester, three students -- Henry Ang, Nicolas Chan, and Daniel Liu -- provided front-line support for the Savio cluster. With the upcoming upgrade of Savio nodes to Scientific Linux 7 (SL7), many users requested help with software compilation and installation, which sometimes required resolution of complex chains of software dependencies. In addition to addressing user requests, the Ops Interns worked with staff from the Computational Genomics Resource Laboratory (CGRL) to install over 100 software packages on the Vector cluster. BRC held software installation clinics during the semester, where the interns joined domain consultants and professional staff to provide in-person support to researchers compiling their software on SL7. To ensure that SL7 launches with an up-to-date set of software modules, Daniel undertook a research project to compare BRC's initial set of nearly 300 SL7 packages against versions of those packages installed on peer clusters.
In addition to helping with user support and software installation, the interns worked with CI engineer Maurice Manning on testing and refining the Tesseract OCR Jupyter notebook developed for digital humanities postdoc Adam Anderson, and adapting that notebook to a workflow for Music and Law lecturer Carla Shapreau by integrating the Google Translate API.
In spring 2017, BRC will expand the Ops Intern program to include more undergraduate students, and extend their involvement in other BRC services and projects, including AEoD virtual research desktops, secure data and compute, and cloud support.
Read on to learn more about the students who helped us launch the ops intern program this semester:
Henry Ang (left) is a sophomore majoring Computer Science, Cognitive Science, and Economics. He has a strong passion for the application of computational science in the life sciences, such as computational biology. He previously worked as a lab assistant for the Foundations of Data Science course. Henry also works on on Vis-a-vis, a project using augmented reality to help visually impaired people perceive their surroundings using sound cues.
Nicolas Chan (center) is in his first year at UC Berkeley and intends to major in computer science. Previously, Nicolas was an intern at NASA Ames Research Center, where he worked on web development projects and helped with a user interface design. He has also taught computer programming principles to other students, as a volunteer. In his free time, aside from enjoying working on various programming side projects, Nicolas runs a server he set up in his home garage, which inspired him to pursue the opportunity to work with supercomputers at Berkeley Research Computing.
Daniel Liu (right) is a freshman studying EECS. His main interest is security, both physical and digital. Beyond academics, he enjoys cooking and drumming.