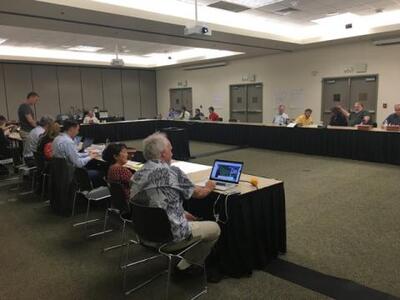 On November 10, 2016, Research IT staff from across the University of California system met at UC Irvine to discuss trends in research computing and opportunities for collaboration. The one-day session was facilitated by David Greenbaum (UC Berkeley) and Christine Kirkpatrick (UC San Diego). Patrick Schmitz, Chris Hoffman, and Maurice Manning also represented Berkeley. The organizers set the following goals for the day:
Build rapport and collaboration between research computing delivery units at UC Locations.
Share best practices, lessons learned, techniques, and policy implications of delivering research computing services at UC.
Identify synergies and support models at campuses, that could be replicated or promoted as a unified offering.
Dana Roode, CIO at UC Irvine, welcomed attendees and described efforts to strengthen research computing at his campus. Discussions then began with updates on initiatives such as the Reimagining IT strategic planning effort at Berkeley and the Pacific Research Platform. In the afternoon, UC Office of the President Tom Andriola called in to the meeting to update attendees on ongoing discussions among UC campus leaders regarding the need for collaboration and resources in support of research computing across all campuses.
Much of the day was devoted to group work designed to identify concrete next steps on four initiatives that had been selected earlier as areas for further collaboration:
UC-wide service map/catalogue, which would include services, initiatives, and priorities across the system.
Research computing staff development and networking, including annual research computing summits.
Gearing up for a multi-campus NSF Cyberinfrastructure proposal.
Furthering campus overhead waivers for cloud and shared services.
Another focus of the Irvine meeting was to provide an opportunity for Cyberinfrastructure Engineers on each campus to meet in person and identify specific areas for collaboration and partnership. Four CI Engineers (funded through an NSF program) who were recently hired at Berkeley, Irvine, Santa Cruz, and San Diego, were able to attend the meeting and discuss the kinds of projects they have been involved in.
Including this Irvine meeting, the UC-Wide Research IT community has met face-to-face on four occasions over the past two years. There were a number of new faces, but there were many more familiar ones. The discussions during the organized activities as well as side discussions during breaks demonstrated the value and opportunity of collaboration across the UC system in support of research computing.