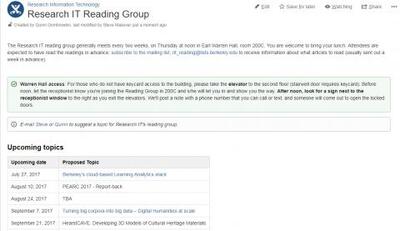 Since April 2013, Research IT has hosted a biweekly reading group open to anyone affiliated with UC Berkeley, to discuss research projects, technology that supports research, and topics that concern research and technology in higher ed. Past topics in 2017 have included Integrating Globus and Box in Research Workflows, Developing Pedagogical and Research Tools for a Film Delivery Platform, and Natural Language Processing over a Fanfiction Corpus.
Depending on the topic, reading group meetings are typically attended by interested researchers in a wide range of domains, as well as staff and students. Readings are sent out to the group's mailing list a week ahead of time, and are meant to require no more than an hour to review (often less). Generally one or two people present on the meeting's topic for 20-30 minutes, and discussion follows.
Since Spring 2017, those who wish to participate but can't make it to Warren Hall (where meetings are generally held) have been able to use a remote conferencing service, Zoom, to call in. Using a Zoom client or plugin (on a laptop or smartphone, via a web browser or app), remote participants can view video as well -- generally the camera is pointed at a screen where slides are being presented. If you know ahead of time that you will be using Zoom to participate remotely, we'd appreciate a quick note to research-it@berkeley.edu -- to make doubly-sure that remote participation is enabled by the facilitator.
How to attend, in person or via Zoom
The Research IT Reading Group meets every other Thursday during the noon hour, usually in the second-floor conference room 200C in Warren Hall. Building access information is available on Research IT's Reading Group wiki page.
For more information and regular updates, please write to research-it@berkeley.edu and:
ask to be added to the bCal (calendar) entry for the reading group meetings in order to view remote (Zoom) connection information (included in the bCal event description)
ask to be added to the Research IT Reading Group mailing list (a Google Group) if you'd like to receive updates (~1 e-mail every two weeks) about the upcoming topic.
Keeping up with Reading Group topics
The topic calendar for Research IT's reading group is available on Berkeley's wiki, at https://wikihub.berkeley.edu/x/jw2AB. 
Coming up on July 27, 2017, Oliver Heyer of Educational Technology Services (ETS) will lead a discussion about UC Berkeley's cloud-based learning analytics stack; and on August 10th, a cohort of Berkeley staff and researchers attending the July PEARC conference in New Orleans (Practice & Experience in Advanced Research Computing) will report back on that meeting.