Research IT hosted a Workforce Strategy Panel at this year's One IT Summit, facilitated by Aaron Culich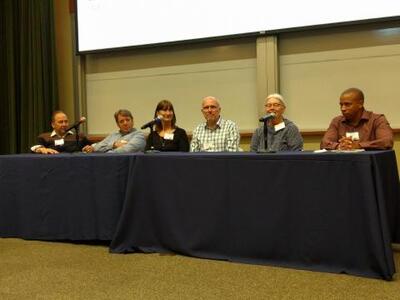 and David Greenbaum. The panel was part of the event's Track 1: Paving a Path for the Future: Teaching and Research, Cloud Strategy, and Workforce Development. The panel's goals were to foster IT community conversation around roles and job skills that will be relevant to UC Berkeley's future workforce, and to help the IT community imagine possible career paths for themselves by sharing the experience of panelists who've made leaps in their own careers.
The annual One IT Summit provides the campus IT community an opportunity to share, inspire, and shape the future of IT at UC Berkeley. This year, the theme was "Lead from where you are," which celebrated the essential contributions each staff member brings to the organization, especially when empowered to lead from where we are.
The panel included six people from across the IT community who have re-imagined their own career paths and made a leap into new roles and/or organizations. Each panelist shared their own unique experiences to offer a first-hand perspective and some key takeaways:
 

Key takeaway

Jason Christopher

Research IT, Berkeley Research Computing (BRC) and Research Data Management (RDM) programs

"You've got to move to grow"

Brian Peterson

Institute of Transportation Studies, California Partners for Advanced Transportation Technology (PATH) Connected Corridors program

"Have core skill sets that can span different jobs; 5 core +2 that you're adding; Continually build your skill set"

Jane Valentine

Student Information Systems (SIS)

"Be nice! Have respect for everyone. It's the right thing to do, and people will remember how you made them feel."

Jon Hays
bConnected Collaboration Services, Information Services Technology (IST) Architecture, Platforms, and Integration

"Listen and don't be afraid to look dumb / ask questions"

Kellie Hobbs
Information Services Technology (IST) Enterprise Data Services

"People do want to help you succeed in your career"

Michael Thompson

Campus Shared Services (CSS) IT

"Apply for the fancy jobs"
The panel ended with Q&A from the audience, planned for 15 min. In the event, however, the audience wanted to hear more from the panel, so an engaging conversation lasted thru the scheduled break, until the next session was ready to move into the auditorium where the panel was presented.
The panelists and organizers were delighted to see such enthusiasm for the discussion and look forward to continuing the conversation with campus colleagues. Feel free to reach out to our panelists to learn more from them, and to join the community at the next One IT event You're IT! One IT Staff Appreciation on Thursday, Oct. 26, 2017 from 3-5pm.