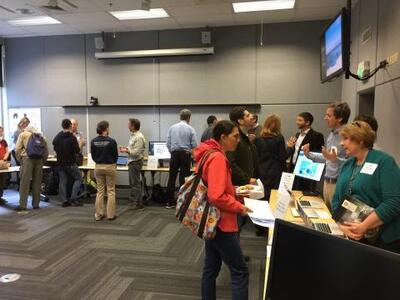 Effective August 1, 2017, Research IT, the Center for Teaching and Learning (CTL), and Educational Technology Services (ETS) have been aligned into a single portfolio. Larry Conrad, Associate Vice Chancellor and Chief Information Officer and Cathy Koshland, Vice Chancellor for Undergraduate Education agreed jointly that this move would provide enriched more streamlined support to faculty. The groups will report to both Koshland and Conrad and will be headed by Jenn Stringer, in a new role as Assistant Vice Chancellor for Teaching & Learning, and Chief Academic Technology Officer. 
"This organizational re-alignment will enable us to expand on the existing coordinated efforts between the three units in support of faculty and students on campus," said VCUE Koshland.
These three groups have been collaborating over the past several years on projects ranging from consultation in support of research and teaching, and benchmarking of Berkeley's Research and Academic Engagement (RAE) technology services against those offered by peer institutions. With the opening of the Academic Innovation Studio, the groups have begun to coordinate their efforts even more closely. The change will enable greater alignment and support for teaching and research on the campus and supports the newly released Reimagining IT Strategic Plan. 
This shift also allows David Greenbaum, outgoing Director of Research IT, to take on a new role: leading the implementation of the Reimagining IT Strategic Plan. David led Research IT since its inception in 2013, as well as several units from which Research IT evolved. His leadership helped the campus to implement key initiatives, including the Berkeley Research Computing and Research Data Management programs.
Image: Staff from the Center for Teaching and Learning, Educational Technology Services, Research IT participate in the Teaching and Research Resource Fair, April 18, 2017, in the Academic Innovation Studio.