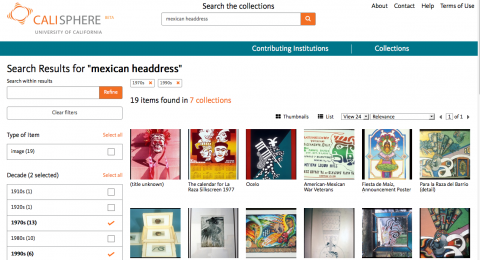 A redesigned and enhanced version of Calisphere, a one-stop website for searching and browsing through the digital assets of more than one hundred California libraries, archives, and museums, became available as a polished, public beta in September 2015. Calisphere provides "free access to unique and historically important artifacts for research, teaching, and curious exploration." It contains "more than 400,000 digital photographs, maps, diaries, letters, drawings, newspapers, oral histories, sound recordings, moving images, and other formats."
Among its many improvements, the new Calisphere offers far more capabilities when viewing, filtering, and sorting search results, and also works well on mobile devices. By late 2016, the new site is slated to exit beta status and completely replace the older, legacy Calisphere website.
The redesigned site features an improved harvest ingest workflow, which makes it considerably easier for participants to share their holdings. This should greatly expand the number of digital artifacts from the UC Libraries and other California collecting institutions that Calisphere will be able to make available to the public. The site stores artifacts in a new digital asset management system (DAMS) based on Nuxeo, the enterprise content management system also used in CollectionSpace.
The new Calisphere represents over two years of work by the UC Libraries Digital Collection (UCLDC) Project, a team managed by Sherri Berger and Brian Tingle at the California Digital Library (CDL) in the UC Office of the President.
A number of members of UC Berkeley's Research IT department contributed to this project. As described in UC-wide repository for managing digital resources goes live, the project's first year of work yielded the UC-wide DAMS that serves as the foundation of the new Calisphere. During that year, five current and former members of the department – Richard Millet, Amy Wieliczka, Lam Voong, Patrick Schmitz, and Yuteh Cheng – contributed experience in systems architecture, software development, user experience design, and data management.
In the second year of the project, Amy Wieliczka and Lam Voong, together with Chris Hoffman and Glen Jackson, continued Research IT's partnership with CDL in helping to build the new website, as well as populating Calisphere with media and metadata from the University of California libraries and other cultural institutions throughout California.
Amy built a large portion of the new site's functionality, working with two of her project team colleagues. She wrote JavaScript code that makes the site respond quickly to a variety of user requests; and Python code that enabled Django -- the site's web application framework -- to perform searches and retrieve metadata and media. She also assisted the project team with user experience and interface decisions.
Lam, Chris, and Glen worked on transforming metadata from the wide variety of contributing systems into formats suitable for importing into the DAMS. They applied tools and skills developed for CollectionSpace to the tabular-style metadata supplied by certain providers; then transitioned into processing additional metadata formats supplied by other institutions. They also helped with a broader set of tasks related to metadata, including data mapping (that is, matching the disparate elements and datatypes of each provider's data to those used within Calisphere); tools development; quality assurance; and documentation of the project's extract, transform, and load (ETL) workflows.