Anna Sackmann co-authored this post with Amy Neeser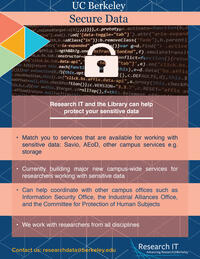 Libraries have historically served as a hub for access to technology by providing publicly available computers with access to the Internet and workshops ontechnology topics. Academic libraries Research IT commonly house their own internal information technology (IT) team to serve unique needs in acquisition, resource management, access, discovery, and preservation of research materials. However, these internal teams are not designed to address the technical needs of researchers, like developing data management plans and advising on storage. As a result, there is often a separation between services available through the library and services provided by central and research IT organizations. As research from across disciplines is becoming more data and computationally intense, these two campus communities have an opportunity to collaborate on comprehensive research services for students and researchers.
At the University of California, Berkeley, the Library and Research IT organization have come together to offer a holistic set of services for researchers around their data and computation needs. They co-sponsor the Research Data Management (RDM) Program and the RDM Service Lead is a shared position funded by and reporting to both organizations. They collaborate on strategic planning and direction as well as staffing and service offerings. The RDM Operations team is made up of Librarians and Research IT staff and represents a variety of disciplinary expertise. They offer individual and group consultations that address specific data workflows and trainings to students and researchers on data management topics. Further, they are part of a larger team of consultants who, in addition to data topics, consult about computation.
Program: 
Service: 
Project: 
Partnership: